215 Great Rd, Shirley, MA 01464
Capacity 300
The Bull Run has been a Tavern for centuries and in Alison Tocci's family since the 1940's. For six decades, Alison's brother and their father before him ran the family business. Alison and her husband George took the reins on New Year's Eve of 2009 and now employ 74 people including a wide array of aunts, uncles, nieces, nephews, cousins, in-laws and even a few outlaws. Their mission is simple: buy local; treat the staff and the talent like gold; support the local events and institutions that truly create community; and bring world-class entertainment to this rustic setting in north central Massachusetts. The intimate atmosphere at Bull Run is one-of-a-kind and we sincerely believe the Tavern is lucky for love; maybe that's why so many betrothals, weddings, and special anniversaries take place here as the decades roll by. The tired and thirsty traveler has been stopping along this Great Road since 1740. Alison and George invite you to continue the tradition. Step back in time and relax in the authentic atmosphere of Bull Run.
153 Library Lane, Mamaroneck, NY 10543
Capacity 275
The Emelin Theatre, located in Mamaroneck, New York, and founded in 1972, is the oldest continuously operating performing arts theater in Westchester County. Its mission is to bring the best in live performing arts to Westchester and other nearby communities and to promote a cultural life that entertains, educates, and invigorates. The Emelin, well-known for its high-quality and affordable programs, is one of the few performing arts venues in this region which offers a broad mix of entertainment appealing to all ages and tastes and attracts diverse audiences throughout Westchester County and beyond. Due to its strategic location in central Westchester, the Emelin also attracts theatregoers from New York City, New Jersey, and lower Connecticut.
Tech Specs
275 fixed seats: 230 orchestra seats, 45 mezzanine seats

Wheelchair accessible stage and audience areas

Stage dimensions: 32′ wide x 17′ deep stage

Fully equipped lighting and sound package

80+ lighting instruments

Right, Left, Center and Sub Speakers

2 dressing rooms with private bathrooms

Fully staffed with reliable and courteous professionals
71 Public Sq., Wilkes-Barre, PA 18701
Capacity 1800
Since opening its doors 20 years ago, the F. M. Kirby Center's cumulative audience has been more than 2.5 million people. These audiences have witnessed a broad spectrum of attractions, ranging from grand opera to a cattle auction, from Broadway musicals to 18th Century dramas, from musicians to comedians, from ballet to acrobats, from magicians to ice skaters, plus the Young People's Theater which annually attracts as many as 10,000 pre-kindergarten though grade 12 students.
325 State Street, New London, CT 06320
Capacity 1450 | Garde Theatre
Capacity 120 | Oasis Room
The Garde Arts Center's centerpiece is the historic restored 1450-seat Garde Theater. The Moroccan-style interior with plush orchestra and single balcony seating and state-of-the-art stage sound and lighting is ideal for Broadway musicals, opera, concerts from full orchestra to rock to intimate jazz, speakers, film, dance, theater and private and civic events of all kinds.
The Oasis Room is a cozy 120-seat "living room" theater ideal for jazz and other intimate music, theater and comedy performances as well as conferences, speakers, dining and private events. Right off the mezzanine lobby (Pfizer Mezzanine) of the Garde Theater, the Oasis Room amenities include state-of-the-art LED stage lighting, a modular stage, excellent audio and natural acoustics, moveable seating, and its own catering kitchen.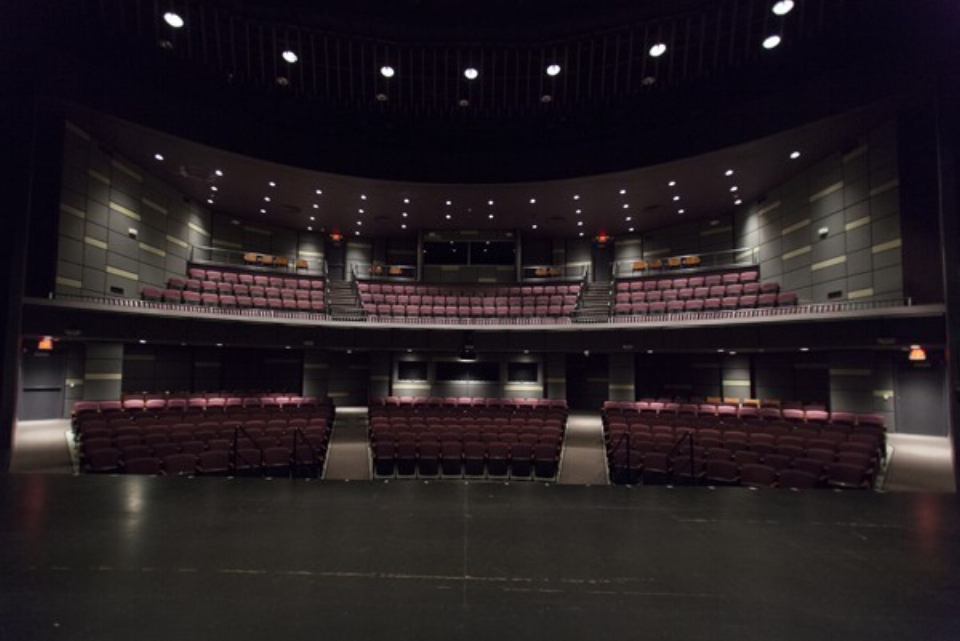 Grunin Center for the Arts
Ocean County College, College Drive, Toms River, NJ 08754
Capacity 464 total
The Jay and Linda Grunin Center for the Arts, located on the campus of Ocean County College, is a performing arts center dedicated to providing art and entertainment to Ocean County and the Jersey Shore. Featuring premiere acts from across the globe, the Grunin Center's intimate venue allows patrons to experience once-in-a-lifetime performances from venerated artists, hometown musicians, and unique entertainers. Music performances of all genres, theatre, film, and dance make their way to the Grunin Center stage each season.
Tech Specs
Wheelchair accessible seats

Fully equipped lighting and sound package, including backline

2 Dressing rooms

Stage Dimensions

Proscenium Width - 40'

Proscenium Height - 18'

Grid Height - 33'
Additional Tech Specs for Grunin Center
1130 Bethel St, Honolulu, HI 96813
Capacity 1,350
Built in 1922, the Hawaii Theatre is the second largest proscenium performance facility in the state and the only remaining theatre of its type in Hawaii. Listed on both the State and National Registers of Historic Places, it is recognized locally, nationally and internationally for its superb technical capacity and beautiful ambiance. The Hawaii Theatre Center was incorporated in 1984 as a non-profit 501(c)3 corporation.
Additional tech specs about Hawaii Theatre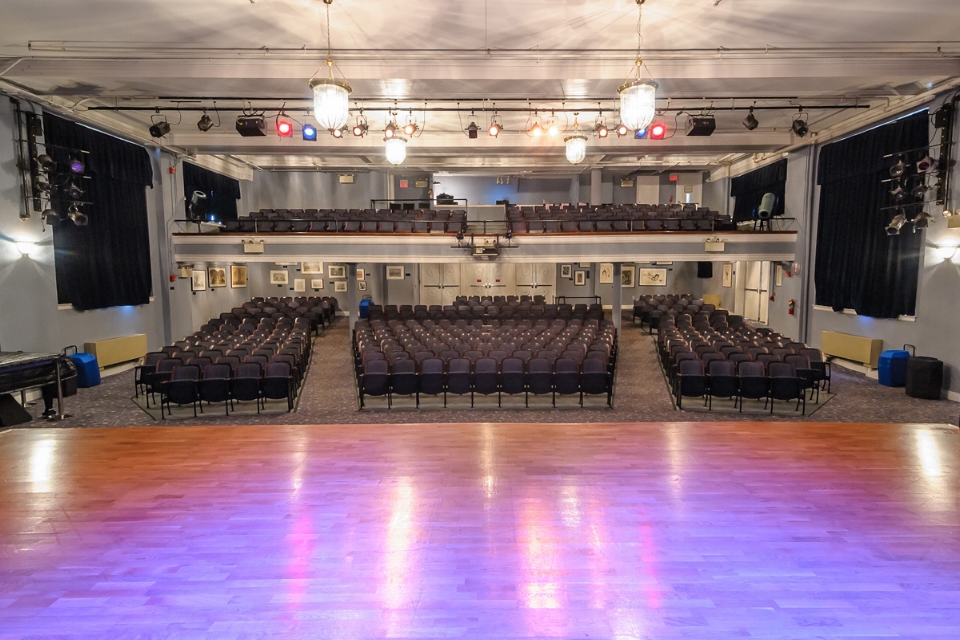 232 Main Street, Port Washington, NY 11050
Capacity 400
The Jeanne Rimsky Theater is a beautiful space to rent for your own private event — a concert, dance recital, organization meeting, lecture, and more. The 425-seat, fully-air-conditioned space features state-of-the-art sound and lighting technology.
Tech Specs
Theater Dimensions - 50 feet wide by 26 feet deep to wall with wings

Actual Working Space - 30 feet wide by 26 feet deep without wings

Seating Capacity - 425 seats total — 300 orchestra and 125 balcony

Fully air-conditioned

wheelchair accessible, and special seating areas are available.

51 North Park Street Lebanon, NH 03766
Capacity 763
Tech Specs
Stage Specs - Thrust in semi-circle from about 6'8" at proscenium opening sides to 8' at center from plaster line. There are two trap doors, one DSR near the lip and the other USC. Both require some planning and consultation before use. The stage can be accessed from the green room at both sides. The house seats 803 when all seats are in place. It is air-conditioned and newly refurbished with new seats and carpet.

Proscenium opening – 28'10" W X 20' High

Stage Height from Audience floor – 39"

Back wall from apron – 36'

Grid at 50'

Stage left wings 12' wide and 24' deep Stage right usable – 10' wide and 15' deep
Additional Tech Specs for The Lebanon Opera House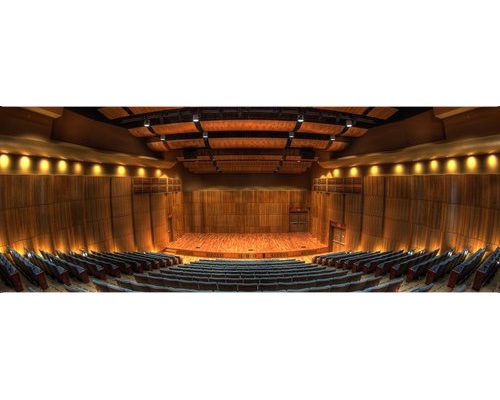 Massry Center for the Arts
1002 Madison Ave, Albany, NY 12208
Capacity 400
Within the Massry Center's 46,000 square feet of wireless and smart classrooms, practice and performance space, the College's music students will experience the finest sound quality as they rehearse and perform a wide variety of orchestral and choral works.
Students in our nationally-accredited art program, housed at the Picotte Hall Center for Art and Design in downtown Albany, will gain new learning opportunities at the Massry Center while students from all disciplines are exposed to the visual arts.
"Naked Soul Series" at Rubin Museum
150 West 17th St., NY 10011
Capacity 140
Naked Soul presents performances from some of the country's top singer/songwriters without microphones or amplifiers, as if the music were, acoustically speaking, naked. The musicians in the series draw upon the universal themes inherent in Himalayan art—spirituality, peace, tolerance, wisdom, compassion—on select Friday evenings.
With its state-of-the-art audio/visual platform, the Rubin Museum Theatre is an optimal location for interactive programs and all-day seminars. The cherry wood-lined auditorium features flexible seating and can accommodate up to 150 guests seated before the main stage. Notable amenities to the space include a high-resolution digital projector, a 3-pan tilt-zoom camera system, and surround-sound capabilities. Our experienced on-site team of AV technicians, coupled with an impressive equipment inventory, make tech-focused events a breeze.
"NYC Rockin' the River Music Cruises"
on the Circle Line
Pier 83, W 42nd St, New York, NY 10036
Capacity 500
Like outdoor concerts? Then step aboard and kick things up a notch! Cruise around NY Harbor with the skyline as your backdrop and the sounds of live music filling your ears. Whether you're a New York City local scoping out summer shows or you're visiting from out of town, this concert series is for you. There's nothing like sipping on a beer or cocktail and enjoying a musical evening on the water. Please note, the Circle Line sails rain or shine and there is only limited seating available. First come, first serve!
100 East Main Street, Waterbury, CT 06702
Capacity 2500
The Palace Theater has recently undergone $30 million dollar restoration project. This former vaudeville house located in Waterbury, Connecticut is now the largest performance stage house, measuring 5,000 square feet, in the state. The seating capacity is 2,565.
The Webster Hall has an orchestra and mezzanine level; and an Orchestra Pit with a capacity of 26 musicians in primary pit area and the ability to increase to approximately 48 musicians.
In an effort to accommodate audiences of varying sizes, the Palace Theater can divided the house into 4 seating capacities: 635, 1136, 1856 & 2543 (These numbers include kills).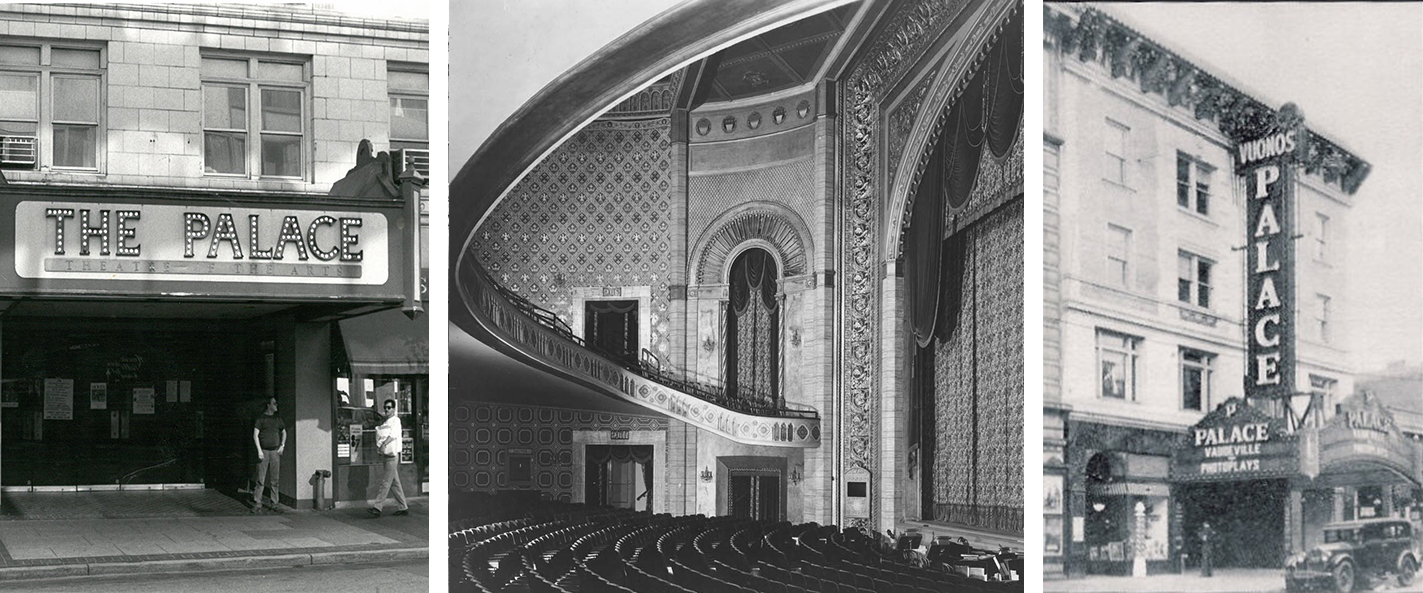 61 Atlantic St, Stamford, CT 06901
Capacity 1598
The Palace Theatre, a 1,580-seat Thomas Lamb-designed vaudeville house, was acclaimed as "Connecticut's Most Magnificent" when it opened in 1927. It was restored and re-opened in 1983 for live theatre, opera, dance, comedy and concerts, plus art exhibitions in the Sackler Gallery. A multiphase Palace Improvement Project provided The Palace Theatre with a Broadway-sized stage, new dressing rooms, wardrobe and costume maintenance facilities, as well as other technical-support facilities.
The Mission of The Palace Theatre is to present, produce, host, and manage the premier performing arts and cultural experiences for the region.
South Orange Performing Arts Center
1 SOPAC Way, South Orange, NJ 07079 Capacity 439
The 439-seat mainstage theatre and 2,170 square-foot urban-style loft are used year-round for performances, rehearsals, classes, and more. Singer-songwriters, Jazz and Blues artists, dancers, actors and other artists appreciate the boutique atmosphere that encourages conversations with audiences.
The mainstage is a unique space, with superb acoustics, comfortable seating, and excellent sight lines. Audiences often compare the experience of being at SOPAC to hearing and seeing their favorite artist in their own living room.
Jazz in the Loft and Blues in the Loft are two series of performances held in the cabaret-style setting of the SOPAC Loft showcasing extraordinary musicians who live and work in the region. It is a diverse and exciting place to be – where communities and artists thrive together.
Tech Specs
Stage Specs

Proscenium opening width: 36'0″

Proscenium Opening – Arch height: 18′ 6

Proscenium to rear wall (clear): 26′ 3″

Stage Right wing: 7'3″ to wall

Stage Left wing: 7'3″, plus a contiguous 17′ x 20′ side stage

Apron: installed over orchestra pit 32'w x 6'd

Floor: Basket weave sprung floor with 1-1/8″ ply and ¼" Masonite finish layer

Seating Capacity

415 seats when the orchestra pit is in use.

439 seats with seats installed in the pit area.

Facilities - There are two spaces available for rental that can be rented separately or as a package.

The state-of-the-art 439-seat, Proscenium Theatre

The expansive and light-filled 2,170 sq. ft., Loft

Three modern dressing rooms,each with commode and shower

Wardrobe with steamer, iron, washer and dryer

Green room with kitchen

Production offices
13 Main Street,Tarrytown, NY 10591
Capacity 800
The Music Hall is one of the busiest theaters in the region, offering the best in music, theater, dance, and film, and is a cultural destination, attracting well over 85,000 people including 25,000 children on an annual basis from all over the tri-state area. It is an economic engine, generating over $1 million for the local community through visitor related spending and contributes between $100,000 of space to local nonprofit organizations such as The Random Farms Kids' Theater and Westchester Symphonic Winds every year.
Tech Specs
Stage Specs - The stage floor is masonite over sprung wooden deck, painted black, semi-gloss black (Benjamin Moore). Please note: The stage has an approximately 3% rack from upstage to downstage.

Proscenium Width 32'

Proscenium Height 21.5'

Width including wings 63'

Depth 28'

Grid Height 35' (Batons can only fly to 32')

House Lighting
House lights are controlled from two locations: backstage and in the house. A dimmer backstage left controls the chandeliers and breaker switches control the rim, mural and proscenium lighting. In the house right stairwell, nondimming breakers control the lights under the balcony and decorative lighting.
The Music Hall has a full rep plot available for your production.
FOH position - The permanent position is located at the back of Orchestra Center, house left, under the balcony. The system runs on a 100 amp circuit.
Audio System Description - The Tarrytown Music Hall Sound System is comprised of two ground stacked line arrays (5x Meyer M2D per side), three stage level front fills DSR, DSC, DSL (Meyer M1D's) and one subwoofer per side (Meyer 700-HP). The bottom three boxes per side fill the orchestra, with two top box per side fill for the balcony seating. The arrays are sent from the Stereo A Left/Right of the console to the Gaileo, subwoofers and front fills receive signal from the Stereo A and B output of the console to the Galileo. The system has been calibrated with SIM 3. There is a BSS Opal two 31 Band, 1/3 octave EQ in- line before the Galileo for the FOH engineer to tune the system for each show requirements, as well as another Ashly two 31 Band, 1/3 Octave EQ for the two downstage monitor wedges that are available. On stage, there are two plug box locations, one on the Down Stage Left, and the other on the Down Stage Right wall. Each box has 24 Female XLR inputs, and 6 Male XLR Return lines, with a XLR 4' fan-out at the Front of House mix position. There is also two 20 Amp receptacles on each side next to these plug boxes, as well as at FOH. Down stage left is the power tie-in location, a 100 Amp 3-phase disconnect with cam-lock connectors.
14 South Hanchett Street, Coldwater, MI 49036
Capacity 500
Tibbits Opera House, built in 1882, is the second oldest operating theatre in Michigan. Designed by Detroit architect, Mortimer Smith, the stand-alone opera house with its exquisite French Second Empire façade was far more impressive than other theatres of the era. The fact it survives and continues to operate as a theatre servicing southern Michigan and northern Indiana makes it even more rare today and worthy of preserving.
Tibbits Opera House serves as the arts and cultural center of Branch County and the surrounding area. The intimate 499-seat theatre offers nearly-perfect acoustics and great entertainment year-round. Tibbits produces a professional summer theatre program which USA Today called one of "10 great places to see the lights way off Broadway." Through the rest of the year Tibbits presents professional touring artists, children's programs, art exhibits as well as community arts and cultural events.
Troy Savings Bank Music Hall
30 Second Street Troy, NY 12180 Capacity 1100
Today the Hall's excellent reputation for orchestral and chamber music has expanded to include amplified events. Acoustic curtains line the rear walls and can be deployed or retracted as needed, and hand-painted absorptive panels can be added to the cove on stage without a visual change. Always with preservation of sound as the top priority, Troy Savings Bank Music Hall has evolved to become a destination venue for a wide range of classical and modern music performances and recording.
Tech Specs
Sound The Troy Savings Bank Music Hall is regarded as one of the most acoustically sensitive venues ever built. The reflective surfaces, high domed ceiling and band shell design provide a naturally amplified, long reverberation creating a lush and warm sound for light ensembles and classical concerts without the need for any sound reinforcement. The Hall has proved to be a challenge for more contemporary artists.

Stage Specs

68" wide x 20' 6" deep (center of apron)

Curved perimeter of stage is 70' wide

Height of stage is approx. 4' above orchestra floor

3 Dressing rooms

Chorus room

Orchestra room